The realm of psychic readings is a huge market on the Internet today. The demand for readings has caught on fire and is growing in popularity exponentially. There are really a whole lot of people looking for readings and they are willing to pay for them.
Psychic Websites
There are also many reputable companies online that are all ready to meet this demand. They have set up great websites, providing a variety of psychic services along with great customer service, and often a guarantee of satisfaction.
All of this means there is a great need for talented psychics who can serve all these clients. But who is hiring psychics? Where can you find these psychic jobs?
Watch this brief video to find out!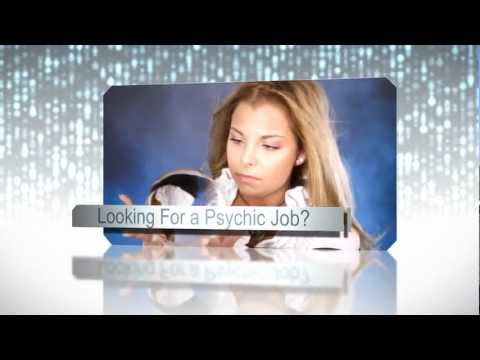 Click here to learn more about phone psychic jobs that are available right now!
As indicated in the video, if you are genuinely psychic, like interacting with people, have an engaging personality and communicate well, you are a great candidate for a position as a phone psychic reader. If you have some experience, that's even better (but not required). Don't hesitate. Click the link under the video now for a great opportunity to earn money using your psychic skills.

Here are a couple other websites that have advertised their interest in either contracting with or hiring psychics:
www.clearpsychics.com/psychicrecruits.html
cams.livepsychicguidance.com/cgi-bin/performer/vibe_per_register.cgi
www.psychic.com.au/psychic-employment.htm (Australia location)
www.globalpsychics.com/about-global-psychics/hiring.shtml (prefer Canadian residents)
You can also do a Google search for "hiring psychics" and browse through results. There's quite a list.
Another potential source of information about psychic jobs is through psychic forums. You could join a forum or two and become involved in the community. You'll quickly learn who seems to be knowledgable and who you can trust. Post some information about the types of readings you're qualified to provide and see if anyone on the forum has any scoop on which companies might be able to use your services.
Save yourself some time, though, and click here today!
[Please understand that PsychicCraft.com is not affiliated with any of the websites listed on this page and does not endorse any of them. If you are looking for paid work as a psychic and you utilize any of these resources, you do so at your own risk. Use discretion before aligning yourself with any company, online or not.]
If you found this webpage to be helpful, tell others!
Related Articles:
Do You Want to Be a Phone Psychic?
Psychic Jobs: Fun to Do But Hard to Get?